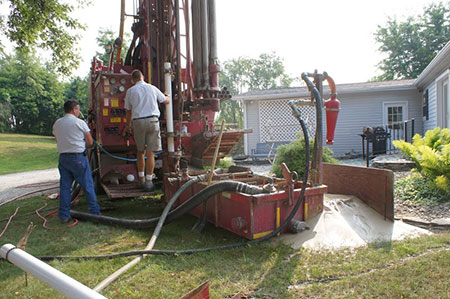 Graber's Well Drilling, Inc. provides expert residential and commercial well services. For 30 years, we've been the trusted contractor for water well installation in Shipshewana, Middlebury, LaGrange County, and Emma, IN. We attribute our track record of success to superior service and top-quality job execution. Our proven methods for bladder tank installation and more include several key components:
Free consultation: Before your water well installation begins, we meet with you to discuss your needs. During this consultation, we provide a free price quote. We guarantee you will not pay more than this price.
Proper planning: At Graber's Well Drilling, Inc., we know the importance of good planning. Each project begins with assessment of the worksite, to mark any hazards and verify the location for drilling.
Small footprint: Well pump installation and other services can be harmful to the environment. That's why Graber's Well Drilling, Inc. takes steps to minimize the damage our jobs cause to the site. We use proper planning, work techniques and disposal methods to ensure the project harms the land as little as possible.
Top brands: We know you want reliability and longevity from your well. We install only the best pumps manufactured by Myers, Flint & Wallings, Grundfos, and Pentair.
Customer care: From our founding days in 1983, Graber's Well Drilling, Inc. has been committed to keeping customers our top priority. Our mission is to exceed your expectations. Our friendly staff is always available to answer questions and partner with you to meet your needs.
Graber's Well Drilling, Inc. offers a solid reputation in our field.
Our established reputation in the industry makes us a leader among bladder tank installation companies in Shipshewana, IN. Contact our experienced technicians today at 260-768-4668 with your well pump installation or water testing needs. No job is too big or small!